Budget Summary 2020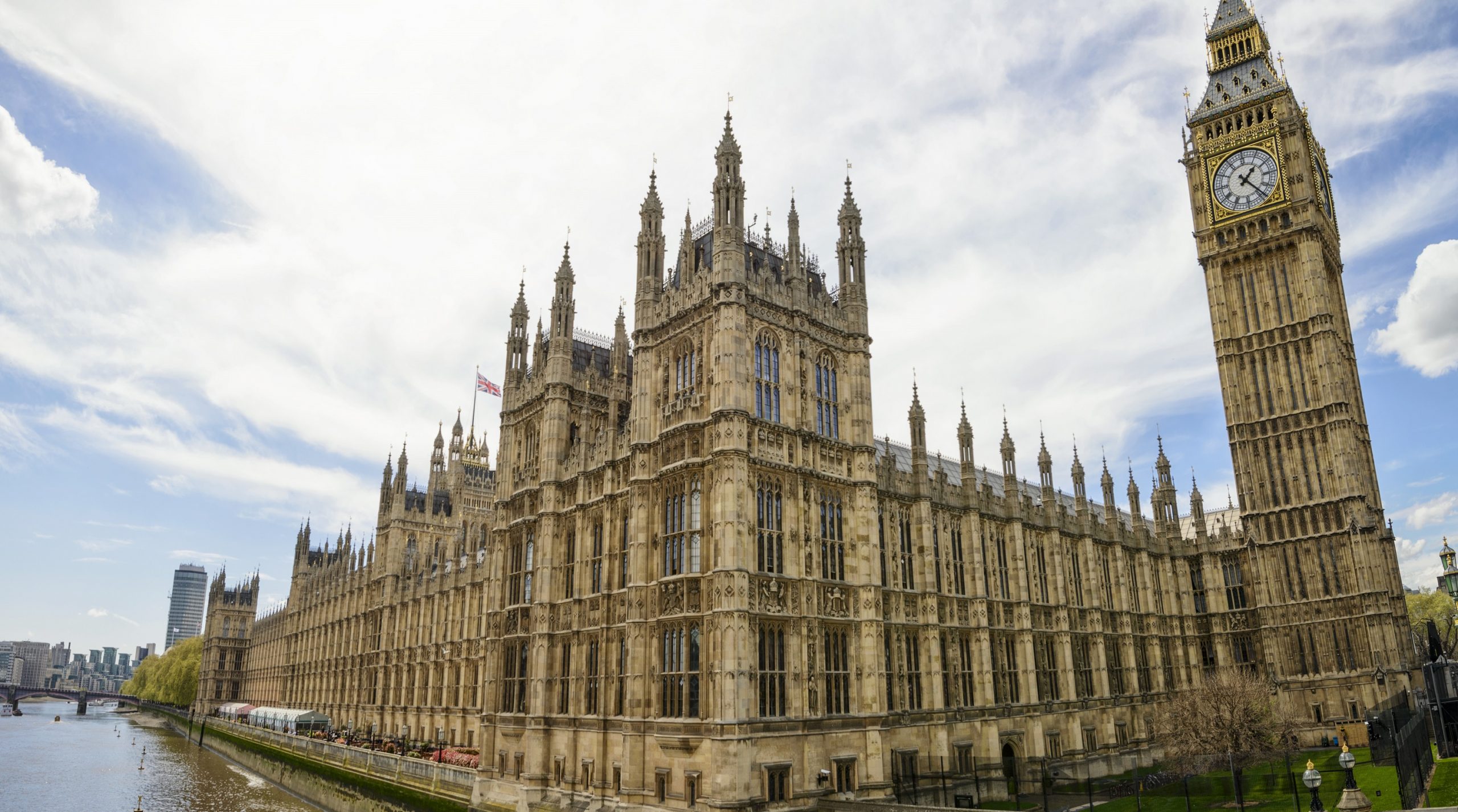 Pensions
Tapered annual allowance
Those on higher earnings are subject to taper relief. Taper relief reduces the level of tax relief available on pension contributions. Today's budget increses the income limits used in calculating the tapered annual allowance and decreases the minimum tapered annual allowance.
Threshold income, which is broadly total income before tax (less employee/personal contributions), is increased from £110,000 to £200,000.
Adjusted income, which is broadly total income before tax plus employer contributions, is increased from £150,000 to £240,000.
The minimum tapered annual allowance is decreased from £10,000 to £4,000.
The measure will have effect for the tax year 2020/21 and will be effective for benefits accrued on or after 6 April 2020.
Proposals to offer greater pay in lieu of pensions for senior clinicians in the NHS pension scheme will not be taken forward.
Those with adjusted income over £300,000 will see a reduction in their annual allowance and will pay more tax as a consequence. Likewise, those with adjusted income below £300,000 are likely to see a reduction in the tax they pay because they are either no longer impacted by the taper and are entitled to the full £40,000 annual allowance, or they are still impacted by the taper, but their tapered annual allowance has increased.
Lifetime allowance
The lifetime allowance will increase in line with CPI for 2020/21, rising to £1,073,100 (from £1,055,000).
Pensions tax relief – net pay / relief at source anomaly
Those earning around or below the level of the personal allowance and saving into a pension with 'tax relief at source' method will benefit from a top-up on their pension savings equivalent to the basic rate of tax, even if they pay no tax. This isn't the case for members of schemes using the 'net pay' method of tax relief. The government has committed to reviewing options for addressing these differences and will shortly publish a call for evidence on pensions tax.
Income Tax
The majority of income tax bands, rates and allowances are remaining the same for 2020/21 as shown below. The personal allowance remains at £12,500 (with reductions applying once adjusted net income exceeds £100,000). The full rates and allowances can be accessed here.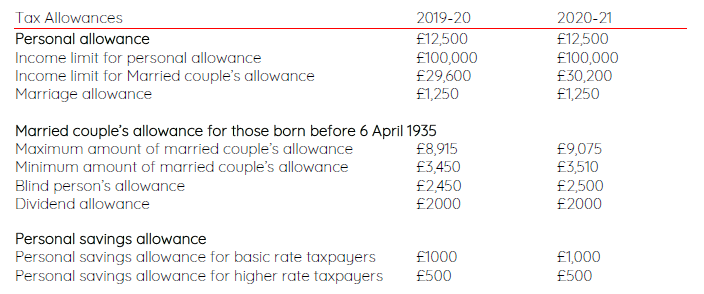 Capital Gains Tax
Annual exempt amount
The Chancellor has increased the Capital Gains Tax annual exempt amount to £12,300 (from £12,000) for individuals and personal representatives, and £6,150 (from £6,000) for trustees of settlements for the period 2020 to 2021.
Entrepreneurs' Relief – reduction in the lifetime limit
Legislation will be introduced in  Finance Bill 2020 reducing the Entrepreneurs' Relief lifetime limit to a maximum of £1 million.
The rules will also provide that the lifetime limit must take into account the value of Entrepreneurs' Relief claimed in respect of qualifying gains in the past.
Rules will also be introduced that apply to forestalling arrangements entered into before Budget day. In such cases the disposal will be subject to the £1 million lifetime cap unless:
The parties to the contract demonstrate that they did not enter into the contract with a purpose of obtaining a tax advantage by reason of the timing rule in section 28 of the Taxation of Chargeable Gains Act 1992, and
Where the parties to the contract are connected, that the contract was entered into for wholly commercial reasons.
In addition, where shares have been exchanged for those in another company on or after 6 April 2019 but before 11 March 2020, and
Both companies are owned or controlled by substantially the same persons, or
Persons who held shares in company A hold a greater percentage of shares in company B than they did in company A and, on 11 March 2020, the personal company test, the trading company and the employee/officer test are met in respect of company B
Then if an election is made under section 169Q of the Taxation of Chargeable Gains Act 1992 on or after 11 March 2020, the share disposal is to be treated as taking place at the time of the election for Entrepreneurs' Relief purposes, meaning that the new lifetime limit of £1 million will apply.
Savings and investments
Top Slicing Relief on life insurance policy gains from 11 March 2020
Top Slicing Relief (TSR) is a calculation method for working out tax liabilities on withdrawals from life assurance bonds. The personal allowance is to be reinstated within the calculation for TSR making available additional relief for taxpayers in certain circumstances.
The measure will have effect for all relevant gains occurring on or after 11 March 2020.
Starting rate band for savings
The band of savings income that is subject to the 0% starting tax rate will remain at its current level of £5,000 for 2020/21.
Individual Savings Account (ISA) annual subscription limit
The adult ISA annual subscription limit for 2020/21 will remain unchanged at £20,000.
Junior ISA and Child Trust Fund annual subscription limit
The annual subscription limit for Junior ISAs and Child Trust Funds will be increased, quite substantially, from £4,368 to £9,000, meaning that 16/17 year olds can have £29,000 in total (including £20,000 to a cash ISA) added to these tax efficient shelters in 2020/21.
Property tax
Non-UK resident Stamp Duty Land Tax (SDLT) surch