Important information for Email Communications
Emails sent by Edison Wealth Management are private and confidential. If you have received this message in error, please notify us immediately and delete it from your computer. Edison Wealth Management Ltd disclaims all responsibility and accepts no liability (including negligence) for the consequences of any unintended recipient of this email acting, or refraining from acting, on the information contained herein.
Any form of reproduction, dissemination, copying, disclosure, modification, distribution and/ or publication of this email message is strictly prohibited. Any views or opinions expressed are those of the individual sender and do not necessarily represent the views of Edison Wealth Management Ltd.
Communication by email may not be secure. Email may be corrupted or altered during or after transmission. We accept no responsibility for changes made to this email after it was sent. Please note that Edison Wealth Management Ltd does not accept any responsibility for viruses after transmission and it is your responsibility to scan or otherwise check this email and any attachments.
Edison Wealth Management Ltd may monitor email traffic data and also the content of email for the purposes of security and staff training.
Important information for Weekly Market Snapshot
This document has been issued by Edison Wealth Management Ltd on the basis of information sourced from Morningstar and, when required, other sources believed to be reliable. We have not independently verified such information and we do not give any warranty as to its accuracy. It is not intended as advice nor a solicitation to conduct investment business. All expressions of opinion are subject to change without notice.
Terms of use
Before using this website, you should read the following important information carefully. This information governs your use of this website and, by using this website, you indicate that you accept these terms of use and that you agree to be bound by them. If you do not agree, please do not use our website.
The content of this website, including these terms, may be changed by us without notice, so you should check this page from time to time.
Regulatory status
The company is registered in England and Wales at 6 Duke Street St James's, London SW1Y 6BN. The company's registration number is 06198377 and its VAT registration number is 909 8003 22.
The company is authorised and regulated by the Financial Conduct Authority (FCA) ensuring that it's conduct and practices are governed by the rules of the FCA. Our FCA registration number is 467771 (www.fca.org.uk).
The Financial Ombudsman Service is available to address individual complaints that clients and financial services businesses aren't able to resolve themselves. To contact the Financial Ombudsman Service please visit www.financial-ombudsman.org.uk.
Content
Our website contains content that is for general information only and is not intended to be advice to you.
Edison Wealth Management Ltd accepts no liability for any losses or consequential loss incurred by you acting upon any information contained within this website.
Nothing in this site should be regarded as an offer or solicitation to conduct business in any jurisdiction outside the United Kingdom.
We make reasonable efforts to update the content on this site, however it may be out of date at any given time. We are under no obligation to update our content and we make no representations, warranties or guarantees that the content is accurate, complete or up-to-date. Any opinion expressed is based on our judgement at the time of writing and is subject to change without notice.
Viruses
We don't guarantee that our website will be secure or free from bugs or viruses. We recommend that you use your own virus protection software.
Risk Warnings
The value of investments and the income arising from them can go down as well as up, and is not guaranteed, which means that you may not get back what you invested. Past performance is not necessarily a guide to the future.
Changes in exchange rates may also cause an investment to fluctuate in value. Levels of taxation depend on your individual circumstances and the value of any applicable tax reliefs.
Any information contained within this website should not be deemed to constitute investment advice and should not be relied upon as the basis for a decision to enter into a transaction, or as the basis for an investment decision. Investors should always seek professional advice in regard to the suitability of any investment.
Copyright
The contents of this site belong to Edison Wealth Management Ltd. Reproduction is not permitted without our prior written permission.
Links to and from our website
You may only use our website lawful purposes. You may link to the homepage of our website provided you do so in a way that is fair and legal, does not damage our reputation or take advantage of it nor suggest any form of association or endorsement on our part where none exists. We may withdraw this linking permission without notice.
Our website may contain links to other websites and resources provided by third parties. These links are provided for your information only and we have no control over the contents of those websites or resources.
Email
You should note that there is no guarantee that we will receive e-mails you send. Important or urgent messages should be sent by mail or communicated by telephone.
Approval
Edison Wealth Management Ltd has approved this site for the purposes of the UK Financial Services and Markets Act 2000.
Remuneration
Pillar 3 Policy and Disclosure
For Edison Wealth Management Ltd's Pillar 3 Policy and Disclosure document please click here.
Best Execution
Edison maintains a Best Execution Policy which is designed to ensure that we take sufficient steps to achieve the best possible results on a consistent basis when carrying out transactions on behalf of our clients. You can read our latest Annual Best Execution Report and Top 5 Trading Venues here.
Use of Cookies
This website uses cookies to improve your experience while visiting the website.
Where applicable this website uses a cookie control system. On your first visit to the website you can choose to allow or disallow the use of cookies on your computer / device. This complies with recent legislation requiring websites to obtain explicit consent from users before leaving behind or reading files such as cookies on a user's computer / device.
Cookies are small files saved to your computer / device that track, save and store information about your interactions and usage of the website. This allows the website, through its server, to provide you with a more tailored experience.
If you wish to deny the use and saving of cookies from this website on to your computer / device, you should take necessary steps within your web browser's security settings to block all cookies from this website.
This website uses software provided by Google Analytics. The software will save a cookie to your computer / device in order to track and monitor your engagement and usage of the website, but will not store, save or collect personal information. You can read Google's privacy policy here for further information.
Other cookies may be stored to your computer / device by external vendors when this website uses referral programs, sponsored links or adverts. Such cookies are used for conversion and referral tracking and typically expire after 30 days, though some may take longer. No personal information is stored, saved or collected.
Privacy Notice
Overview
Please read this Privacy Notice carefully. It sets out how we use and protect any information that we have about you.
This Privacy Notice should be read together with our Acceptable Use Notice and Cookie Policy for our website.
We take your privacy very seriously and are committed to ensuring that your privacy is protected. Whenever we receive information about you, be assured that it will only be used in accordance with this Privacy Notice. We do not share data with other organisations unless the law permits us to do so. We do not sell individuals' information.
When you become a client or an employee of Edison a separate Privacy Notice will apply, which we will give you at the time.
Information we collect
… information you give us
Engaging with us about our service – If you express an interest in us and our services, we may ask you for basic contact information such as your name, email address, telephone number, postal address and the reason why you are contacting us.
When you engage us for our services we will ask you for further information about you and your financial situation including income, expenditure and spending patterns, existing financial arrangements, and copies of personal identification documents (such as your passport or driving licence).
Clients – If, as part of providing our services, we need to open accounts with third parties on your behalf, we may also require National Insurance numbers and bank account details.
We may also collect "special categories" of data which are considered to be sensitive by nature such as data revealing racial or ethnic origin, political opinions, religious or philosophical beliefs, or data concerning health. Depending on the nature of the products and services that you engage us for we may need to obtain your sensitive personal data particularly in relation to health.
Corporate benefits – When we are engaged by your employer to provide our services we will receive and ask for information about you. This will include information such as your name, date of birth, employment status, payroll information, National Insurance number. We may also collect "special categories" of data which are considered to be sensitive by nature such as data concerning health.
What information we collect will depend on the type of services your employer has engaged us for.
Marketing – Information you give us when we meet, or are introduced to us by a third party, will be kept so that we can to stay in touch with you and to send you regular updates.
Applying to work at Edison – If you are interested in applying to work at Edison, we will collect your contact details, details of qualifications, skills, experience, employment history (including current level of remuneration and benefits packages) and your entitlement to work in the UK. We will also record whether you have a disability which we need to make reasonable adjustments for during the recruitment process.  The recruitment process will include interview(s) and other methods of assessments including case studies, reasoning or personality questionnaires. This information is collected in hard copy or electronically.
Information might be collected using application forms, CVs or resumes, or may be collected from your passport or other identity documents you supply to us.
… information about connected individuals
We may need to gather personal information about your close family members and dependants in order to provide our services to you effectively. In such cases it will be your responsibility to ensure that you have the consent of the people concerned to pass their information on to us. We will provide you with this privacy notice and where appropriate, you should pass this privacy notice to them.
… information we collect about you
We will typically collect information about you directly from you, in person, by phone, email or post.  When you telephone us, calls are recorded and your phone number will be searchable within our call recording system. Correspondence by letter or email will be stored in our customer and contacts database, along with any information which is publicly available.
Identification verification – We may also receive information about you from a trusted third party identification service known as Smart Search.
Marketing – We may also access information about you from trusted third parties such as Beauhurst or other sources of publicly available information such as LinkedIn, Companies House and MintUK.
Applying to work at Edison – During the recruitment process we may collect information about you from third parties such as referees, former employers, employment background check providers and criminal records checks. Your recruitment agent or recruitment jobs board may also share information with us about you.
How we use the information and the legal bases we rely on
We must have a good reason, known as a "lawful basis" to use your information.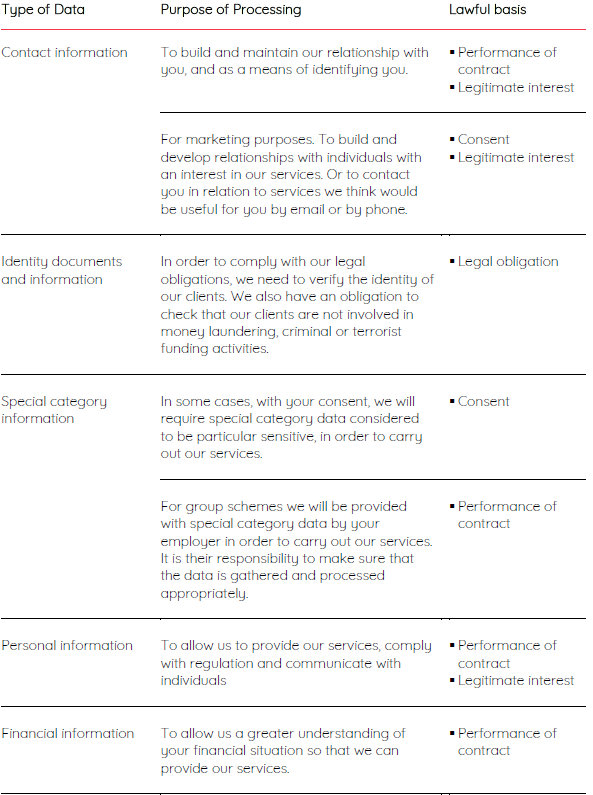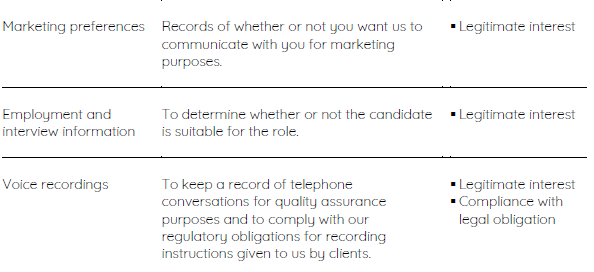 Disclosure of your information
You agree that we have the right to share your personal information with:
Data Processors – We may share your data with carefully selected third parties necessary in providing our services to you. These may include investment research platforms, professional compliance consultants, accountancy or legal services firms as well as product and platform providers that we use to arrange financial products for you. This includes sharing special category data. Please contact us if you would like a list of the data processors we share your information with.
Regulatory and Legal Authorities – We may share your data with regulatory and legal authorities in order to comply with our legal obligations, to enforce our legal agreements and to protect our rights, property or safety and that of our clients and others. To fulfil our obligations in respect of prevention of money-laundering and other financial crime we may send your details to third party agencies for identity verification purposes.
Analytic Services – In order to assist with the optimisation of our site, by helping us to understand how visitors use/navigate our site, we use analytic services such as Google Analytics.
We will not share your information for marketing purposes with any third parties.
Security and where your personal data is stored
We are committed to ensuring that your information is secure. We have put procedures in place around our internal systems and databases to prevent unauthorised access or disclosure. You should remember that transmission of information by email is not completely secure. Any transmission is at your own risk.
Before we share your information with any data processors we make sure that they have appropriate technical and organisational security measures in place to keep your information safe and that they have undertaken to comply with data protection law and regulations.
Typically, the data that we collect from you will be transferred to, and stored at, a destination inside the European Economic Area ("EEA"). If for any reason we need to transfer and store your data outside the EEA, we will do so only where we have assessed that equivalent data protection measures are in place.
Currently, we use Mailchimp, hosted in the USA, for some of our eMarketing. They are certified under the EU-U.S. Privacy Shield certification which was designed to provide a mechanism for complying with data protection requirements when transferring personal data from the European Union to the United States. On July 12, 2016, the European Commission deemed the EU-U.S. Privacy Shield Framework adequate to enable data transfers under EU law.
How long we keep your personal data
We will retain your personal data for the duration of our contract with you and for a reasonable period of time afterwards. We are subject to a legal and regulatory obligation to retain your data for specified minimum periods. We also reserve the right to retain data for longer where we believe it is in our legitimate interest to do so.
Where you have given us consent to use your personal information for our regular marketing updates, we will seek to refresh that consent every two years.
If you apply to work at Edison, but do not become an employee, we will retain your application and personal information for a year after the end of the recruitment process.
If you would like further details on data retention periods for the information we have for you, please contact us.
Control of your personal data
You may choose to restrict the collection or use of your personal information in the following ways:
Consent – If you have previously agreed to us using your personal information for our own marketing purposes, you may change your mind and withdraw this consent at any time.
Access – You may request details of the personal information which we hold about you. We must provide this to you free of charge within 30 calendar days of your request.
Correction – If you believe that any information we are holding about you is incorrect or incomplete, please tell us as soon as possible. We will promptly correct anything found to be incorrect.
Objection, restriction or deletion – You have the right to object to the way in which we process your data, you can ask us to restrict the processing of your data, or you can ask us to delete it.
Please direct all enquiries concerning your control over your personal information to info@edisonwm.com.
More Information
The supervisory authority for data protection in the UK is the Information Commissioners Office. You have the right to complain to them about the way in which we process your data. Their contact details are:
Information Commissioner's Office
Wycliffe House
Water Lane
Wilmslow
Cheshire
SK9 5AF
0303 123 1113 (local rate)
Updates to this Privacy Notice
We may change this Notice from time to time by updating this page. You should check this page periodically for any changes. If there are important changes such as changes to where your personal data will be processed; we will contact you to let you know.
This version of our Privacy Notice was last updated on 29th August 2019.
Cookies and use of our website
Please refer to our Cookie Policy above.
Links to Other Websites
Our website may contain links to other sites of interest. However, once you have used these links to leave our website, you should note that we do not have any control over those other sites. Therefore, we cannot be responsible for the protection and privacy of any information which you provide whilst visiting other sites and such other sites are not covered by this Privacy Notice. You should exercise caution and look at the privacy statement applicable to the sites in question.