Annual Best Execution Report 
1st January to 31st December 2019
Where we send investment applications or orders to third parties (for example, to buy or sell investment holdings), we make every effort to ensure the best possible result for our clients. This is referred to as best execution. We may transmit or place the order via a third party platform (an online investment administration service), with a broker or another venue, to execute your order.
Our Best Execution Annual Report provides the following information on the top five third parties / venues with which we have placed client orders:
Volume of orders placed with each third party / venue, for different types of assets.
Commentary on the results of our best execution monitoring.
The information below relates to the period 1 January to 31 December 2019.
Volume of orders placed with each third party / venue, for different types of assets.

*We have assumed all equity trades to be in the 'tick size bands 1 & 2'. Retrieving accurate tick size information would be difficult and burdensome. We believe that this does not conflict with the spirit of the regulations governing this document.
Open ended collectives, for example certain types of investment funds, do not have a trading venue as such. We have not included them in this report.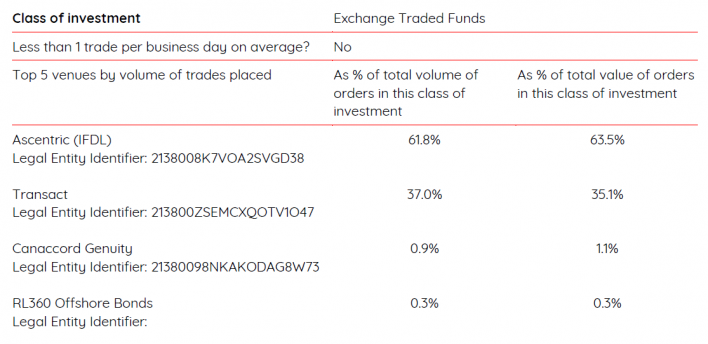 Commentary on the results of our best execution monitoring.
We operate in accordance with our best execution policy. A copy of this policy can be read here.
Under the terms of our best execution policy, we regularly assess the third parties available to us to identify those that will enable us to consistently obtain the best possible result when arranging for the execution of client orders.
The brokers, platforms and venues that we use also have responsibilities in relation to best execution and client order handling. We undertake periodic monitoring to make sure that they continue to meet our requirements. This review is carried out at least annually or whenever a significant change occurs that we feel could affect our ability to continue to obtain the best possible results for our clients.
In order to achieve the best results throughout 2019, we considered a number of execution factors prioritised in the order below. As we class all of our clients as 'retail clients' we predomoninantly use 'price of the financial instrument' as the most important factor.
Price achieved
Cost of the execution
Likelihood of successfully completing the order
Speed of completion
Other considerations in exceptional circumstances
Compared to the previous year, there was an increase in trading volume via the Transact platform. This coincided with an increase in the proportion of clients with assets custodied on Transact. Overall, in 2019 most of our orders were placed with Ascentric (IFDL) and Transact (Integrafin). We felt that both platforms performed in line with our expectations, and their best execution policies.
We have no close links, conflicts of interests or common ownership with respect to any venues, brokers and platforms used during 2019. We also do not have any special arrangements with any execution venue used in 2018 regarding payments, discounts, rebates or non-monetary benefits given or received.
Throughout 2019 we placed orders in the following class of financial instruments, as defined by the European Commission:
Equities – Shares & Depositary Receipts
Exchange Traded Products.
We did not place orders in the following class:
Interest Rates Derivatives, Credit Derivatives, Currency Derivatives, Debt Instruments, Structured Finance Instruments, Equity Derivatives, Commodities Derivatives and Emission Allowances Derivatives, Contracts for Difference or Emission Allowances.
Contact us to speak to one of our advisers.
The value of investments and the income arising from them can go down as well as up and is not guaranteed, which means that you may not get back what you invested. Past performance is not necessarily a guide to the future. The information contained in this website does not constitute advice. The FCA does not regulate tax advice. The FCA does not regulate advice on Wills and Powers of Attorney. The Financial Ombudsman Service is available to sort out individual complaints that clients and financial services businesses aren't able to resolve themselves. To contact the Financial Ombudsman Service please visit www.financial-ombudsman.org.uk.